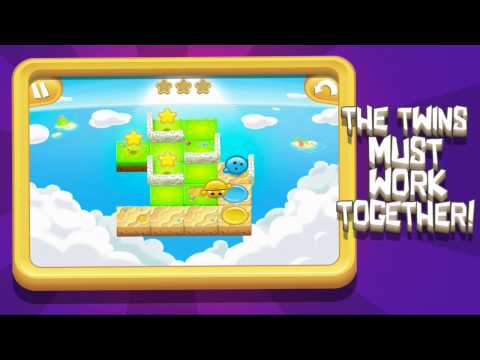 There are puzzle games, and then there's TwinGo!. Deceptively simple in concept, this game will challenge your logic skills in a way that will make you feel like Einstein after you beat each level. And really, is there anything better than that?
Stunning high-resolution artwork and silky animations immerse you in the colorful game world.
Simple gesture-based controls are easy enough for players of all skill levels to master.
Ingenious level designs help improve your logic skills and are as equally gratifying to play.
Primary and secondary objectives extend the game's replayability and fun.
Universal app that plays on both your iPad and iPhone.
"It's nothing like any other puzzle game I've played and I like that"

— App-Score, 8/10
"...it's an enjoyable game with later levels that'll have the player staring at the screen wondering how on earth they can reach that final star."

— 148Apps, 4/5
"TwinGo! is fresh and will be loved by people who are fans of puzzle solving games."

— AppCroc
"To be mastered, the gameplay requires a steady output from your brain, but that's the beauty. It's been tweaked to perfection."

— iPhoneAlley
"TwinGo! more than makes up for its shortcomings with clever designs and the elemental make-ups of the twins playing an important role."

— AppSmile, 4/5
"TwinGo is such a wonderful game that it earned the Family Friendly Gaming seal of approval. I hope and pray Chillingo continues to release upper echelon titles like TwinGo in the future."

— Family Friendly Gaming, 96/100
"TwinGo shows that there's a lot of life left in used puzzle formulas."

— App Spy, 4/5
"TwinGo!'s a breath of fresh air in the puzzle genre, a brightly colored, cute and immensely addictive game that's worth $0.99 and even more. Two big thumbs up."

— Modojo, 4.5/5
"It is an incredibly fun puzzle game."

— FinalSmash
"TwinGo! is an experience which is simple, yet challenging (and very accommodating), and full of charm"

— Gamezebo, 4.5/5